SPERAMUS MELIORA
In April 2009, a DAI project took me to Detroit – considered the classic example of a shrinking city – a huge expanse of once-populated houses from which the inhabitants, following the retreating industry, have, since the 1950's, gradually been leaving. The so-called 'white donut' now surrounds a more and more deserted expanse of abandoned city, whole blocks which have returned to grassland, with perhaps one remaining house left standing, people planting crops and storing hay in abandoned buildings. The scale of the place was simply overwhelming – but these few photographs, taken mainly on the route I cycled to go down town, give perhaps some idea of the state of decay.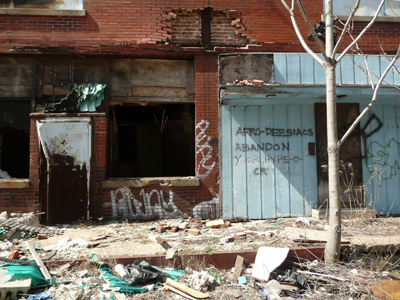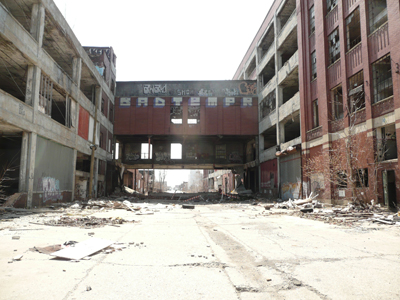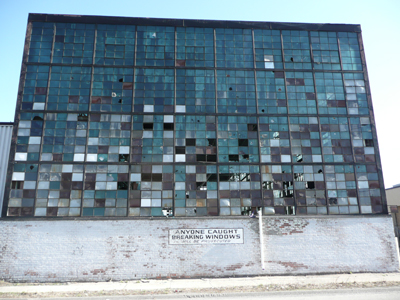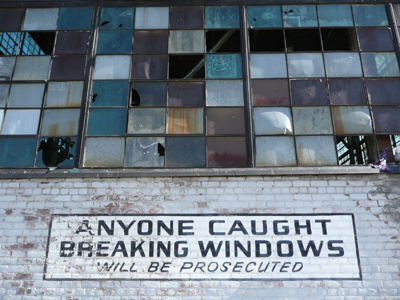 In advance, the notion of this post-apocalyptic city as the harbinger of capitalism crumbling pleased me. I made a list – 46 proposals for Detroit – of possible works I could make there (this list '46 proposals for Detroit' is a work in itself). But once actually there, the sense of abandonment and despair, the hugeness of the problem, the dearth of resources for those who have not chosen to stay but who are trapped by lack of options, made me feel uncomfortable with simply emphasising a rejoicing in this collapse. In the end I chose to build instead a different work, using the official motto of the city of Detroit – 'Speramus Meliora – Resurget Cineribus' which means 'We Hope for Better Things – We Shall Arise From the Ashes'.
My intention was to somehow reclaim this motto which had become something so abstract and official (I encountered only one person who knew it) and to return it to the streets, where the lingering population were certainly hoping for better things and where the crumbling remains of burned out buildings seemed to me to make the phoenixical second line particularly poignant.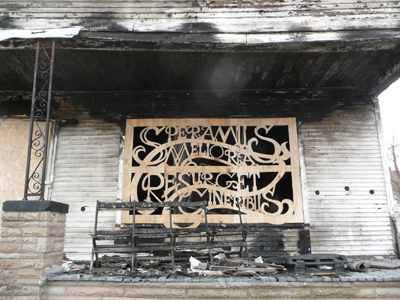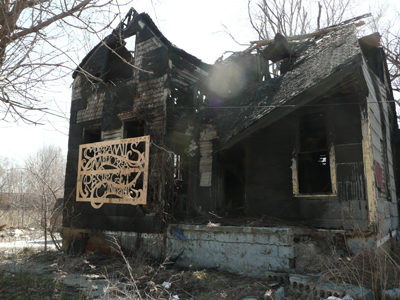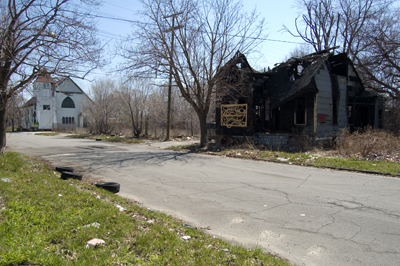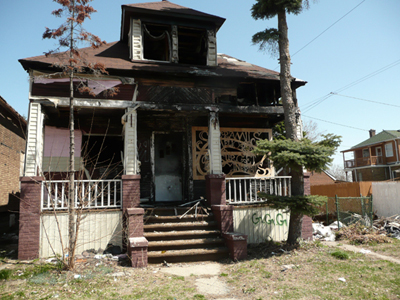 'Speramus Meliora' is also the title of a critical piece I wrote about my experiences working in Detroit and in particular about artistic intervention in 'distressed locations'. I performed it in the MOCAD museum of contermporary art, Detroit – you can read a different version here

.
There are other projects that have grown from my visit to Detroit… An abandoned Police Station in Highland Park is the main source of material for a lecture performance entitled 'Special Attention', and a book. The Detroit Diary, was published by the DAI in 2010 .
Here are some links to Detroit friends:
Tyree Gruyton's Heidelberg Project
DAI colleague – Lado Darakhvelidze's 'Future plans'