HANDLE WITH CARE
Duo-exhibition with Patricia Kaersenhout, in the Amsterdam Tropenmuseum
In conjunction with Black & White, the Tropenmuseum's exhibition commemorating the 150 years since the abolition of slavery, Patricia Kaersenhout invited me to be her partner in dialogue for this exhibition. Our joint installation is entitled in Handle With Care and deals with the existence of present day enslavement, a brutal reality for the women who have fallen victim to human trafficking and the sex industry.

My contribution to this duo-exhibition is a video installation entitled Mulier Sacer, a title meaning the disposable woman: a person who has so few rights left in society that the wrongs that are done to her are no longer seen as crimes. The work has been made as part of an ongoing project about prostitution and has been produced in collaboration with women who have escaped enforced prostitution here in the Netherlands.

Stories of two of the women, retold by actors, bear witness to the way the trade and exploitation of women ties in with larger economic and political processes such as economic inequality, privatisation and corruption. It is from their position on the margins of society and yet also at its heart, that these women can shed light on the wider connections that hardly receive any attention in the prostitution debate.
The projected images portray the women wearing self-portrait masks in order to remain anonymous. The street scenes show actual crime scenes surrounded by the everyday life of the city. Throughout the space one can hear songs recalled by the women form their childhood. The texts of these songs is written, in English, on the wall.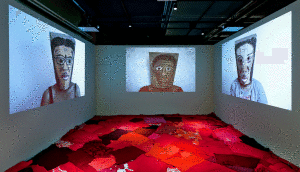 Patricia Kaersenhout's Surinamese background plays a key role in her work relating to the African diaspora in Europe and the history of racism, sexism and slavery. The floor of our installation is covered with a beautiful carpet she made from used, red, women's clothing, symbolizing the oppression of women, and entitled Mantle of Love. On the wall is a text relating to the legend about the origins of the word fuck – Fornicated Under Command of the King – in gold letters.

All photos by Gert Jan van Rooy.
The work has been supported by the AFK (Amsterdam Fund for the Arts) and the Tijl Fund.
My personal thanks to Pakhuis de Zwijger, Hens van Rooy, Flint Louis Hignett, Ella de Rijke, Anna Haas, Josephine Lewington, Philippa Collin, Nadezda Broshuis, Frank Oorthuys, Elke Uitentuis and Judith M., Anonymous-Amsterdam, Anonymous-Almere, Anonymous-Boskoop, Anonymous-Enschede, and Anonymous-Purmerend.