COLLAPSE of JUSTICE
This research project, in Senegal…


…is supported by the Mondriaan Fund.
.
.
.
.
During a previous visit to Dakar in 2014, with Patricia Kaersenhout, to present our joint project Handle With Care, on the issue of human trafficking, one particular related issue caught my attention: the distressing fact that the majority of women behind bars in Dakar's women's jail have been imprisoned either for prostitution-related crimes, or for infanticide – 'crimes' which are linked in many ways, poverty and a dearth of women's rights being the most obvious. So this new branch of research takes me to Dakar again, with the aim of carrying out several branches of research, in particular, working with women in the women's prison, and with prostitutes' rights groups.


.
The theme of prostitution is a topic which is currently particularly relevant, as an increasing number of countries are considering implementation of the 'Nordic model', which punishes those buying sex as opposed to those selling it.
My approach to the subject centres on prostitution as an issue inseparable from gender, race and class issues, and the relationship to modern consumerism, and I am investigating similarities and differences across time and distance between different countries.
.
Senegal is significant because it is both the only country in Africa, as well as the only low-income country, where prostitution is legal and regulated by a health policy. This policy was first introduced in 1969 to limit the spread of sexually transmitted infections. Prostituted women are required to register with a health facility and attend monthly routine health checks aimed at testing and treating sexually transmitted infections and distributing free condoms. If those women who, as it is euphemistically put, salir, or 'go out', are found by the police to be without a carnet de santé, a health card, then they can be arrested and jailed. The carnets, and subsequent health checks, are only available to women over 21, which leaves those who are younger – and they are many – in a very vulnerable position. (Just over one in five prostituted women in Senegal are HIV positive.) A lack of resources aimed at protecting women means that the police are apt to arrest them on trumped-up charges, often presenting them with the option of either going to jail or meeting police demands for sex or money (or both). As the assumption is that any woman found without male accompaniment in a restaurant or on the streets, after dark, is a prostitute (which in itself is an astounding notion!), it also leaves women in general vulnerable to police harassment.
.


(Marabouts have a lot of influence on Senegalse society, there are signs and paintings of them all over the place.)
Dakar is also particularly interesting as a site for research in this field, in that, although prostituted women are heavily stigmatised, there exists a number of, surprisingly visible, organised groups who are struggling to create other options for women in situations of prostitution. I also hoped to gain access to women serving time in prison for infanticide or prostitution related crimes.
After only three days in Dakar, headed inland to Diourbel where I have been invited to visit the first in a series of Project Prison, a project is aimed at helping women who have been incarcerated to become self-sufficient when they return to life outside the prison.
After only three days in Dakar, I headed inland to Diourbel where I was invited to visit the first in a series of Project Prison, a project is aimed at helping women who have been incarcerated to become self-sufficient when they return to life outside the prison. The route heads East from Dakar.


All along the roadside there are village women plying their wares.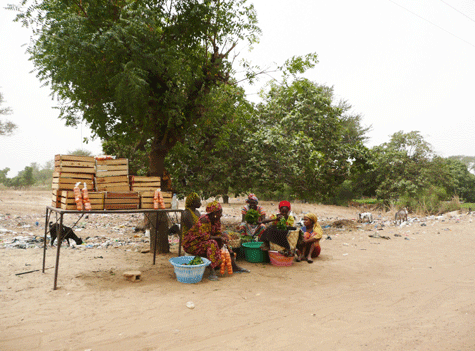 These photographs were taken from the window of the moving taxi.
In Diourbel, there are ten womentaking part in the project, ex-prisoners from three different prisons. This course is to teach them to turn seasonal fruits of vegetables into saleable products that can be kept longer, for sale out of season. When I arrive they are making orange juice, peeling ginger for ginger drink, and preparing hot chilis for sauce. Unsure is photographing them is ok, I take only pictures of their working hands.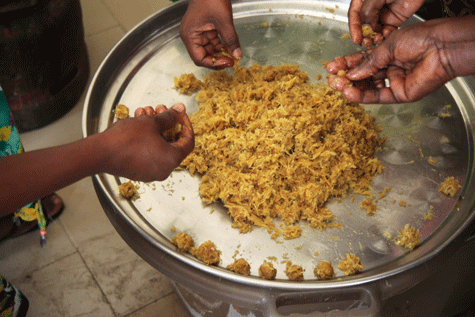 .


.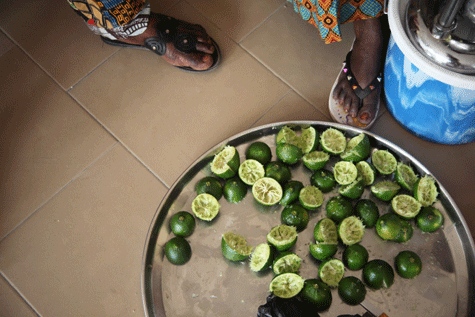 .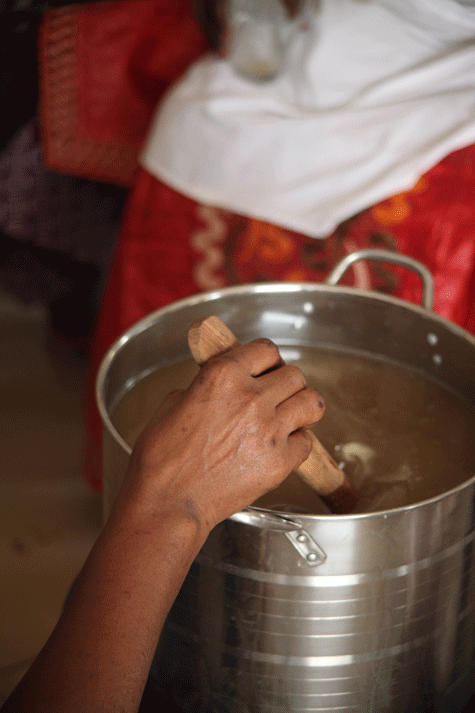 .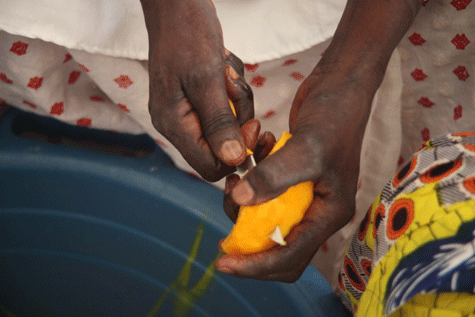 .
At first, most of the women are quite withdrawn and most of my contact is with the numerous entourage of people who work either for Tostan – the NGO that set up the project – or else in the prison, as wardens or as social workers.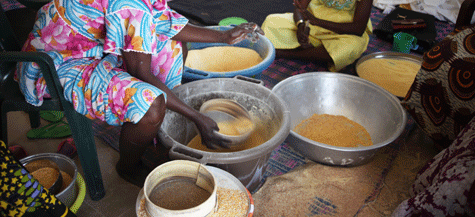 Only very few of the women speak French, the rest only Wolof, so we are limited in our communi- cations. I draw a few of the women in order to remember their names.
.


.


.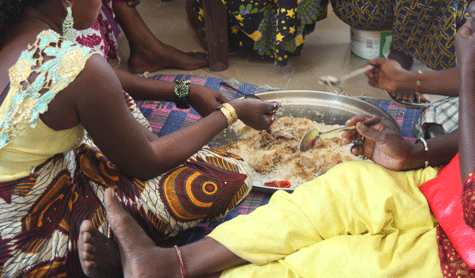 .
Lunch is cooked in the corri- door of our hotel and arrives per taxi in huge aluminium bowls. These are dished out onto huge aluminium communal plates around which 5 or 6 people sit dipping in with their fingers or a spoon. Couscous with fish and hot onion sauce – a recurring theme.


.
.
.
.
.
.
.
.
.
.
.
.
.
.
.
.
.
.
.
.
.
.
.
.
.
.
.
.
.
.
The women have to move out of the cultural centre, which is needed for Independence Day rehearsals. The project has received funds from the US embassy to build their own one-room building on the corner next to the prison and the inauguration is to be today, with deputies from the embassy coming to check that their money has been appropriately spent. More lime juice is prepared, the produce so far is put on show, and there are best dresses…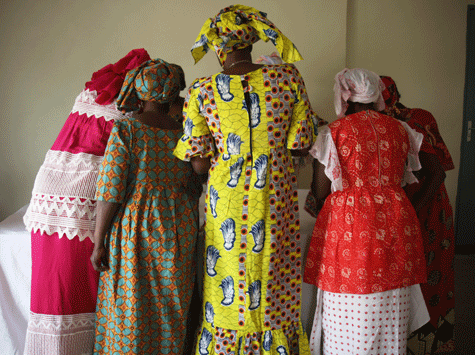 … and a lot of waiting whilst the delegation finds an appropriate place for a toilet break as the centre's toilet was initially built in the room, as opposed to as an add-on, so it had to be demolished and is being re-built but is not quite finished. Indeed all week there are builder's mates in cementy work shoes traipsing back and forth to provide materials to the masons, tilers and plumber.
.
.
.
.
.
.
.
Once the US delegation has left, all the chairs have to be returned to the cultural centre, so, in return for all their kindness and help with my project, I contribute a dozen chairs. These are sent by horse-taxi from the shop to the centre.
.
A lot of activity – dish washing, cauldron-boiling, etc. – takes place on the sandy area in front of the building, and even across the road, where there is leafy shade from a tree and a kind of temporary lean-to that is used as an extra on-site 'office'.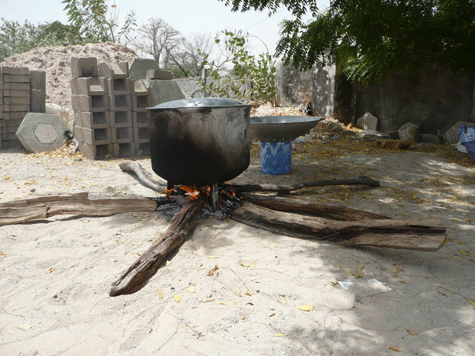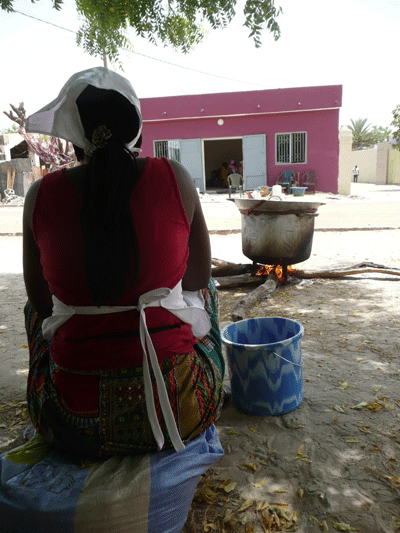 The street has a constant coming and going of hawkers of all sorts, people on their way to market with things to sell, and people looking for a hand out.
The building seems to have acquired a personal beggar who now sits in the same spot at the roadside in the burning sun, receiving an occasional helping of leftovers heaped on a sheet of cardboard torn from a box of tiles.
.
The prison is next door and the main door-guard wants his photo taken.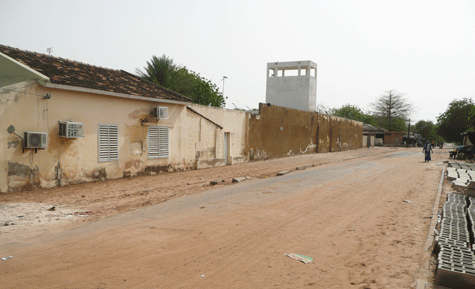 .
At the end of the week there is a diploma ceremony and the director of the prison is invited.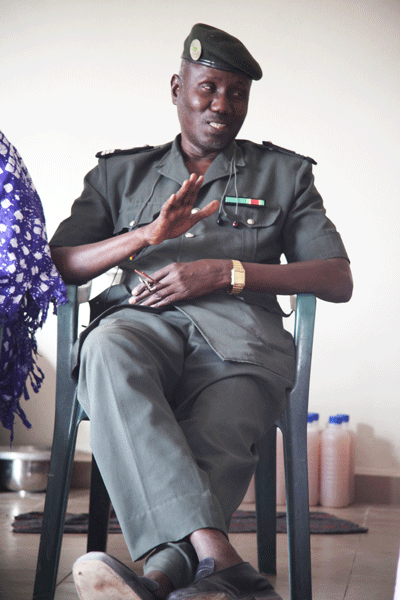 .
.
.
.
.
.
.
.
.
.
.
.
.
.
.
.
.
.
.
.
.
.
.
.
.
.
.
.
.
.
At least half of these women have never learned to read or write, and this is the first diploma they have ever received.
.
Aissatou is the indefatigable initiator of this project, and she arranges for me to record each of the women's stories, as well as translating for the ones who speak no French, only Wolof.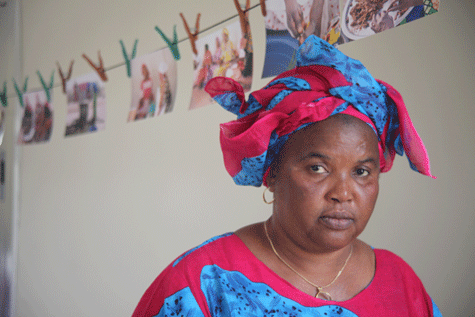 The stories are heart-rending and although Aissatou has heard them before, she is often brought to tears.
we share the sense that it's important that the, habitually unheard, voices of survivors – who are often too traumatised to cope with any mainstream discussion of the issue – be given a platform and listened to. The voices of prostituted women are among those still largely unheard on the global stage.
.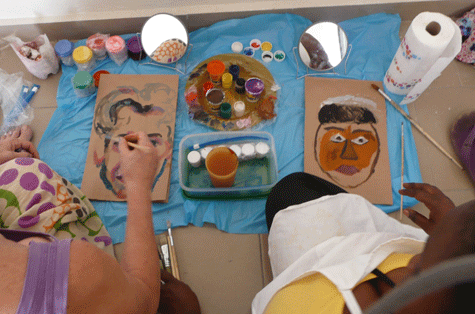 Many of the women accept the proposal of painting a self-portrait mask, but some are too shy to share their unfamiliarity with a brush.

.
My artistic research project is concerned with the circumstances that have led women into prostitution (not the gruesome details of what happens behind closed doors); the manner which they are viewed and treated by the men who use them; as well as the ways in which the authorities have approached the regulation of prostitution, and how this has affected the images in the popular imagination. I attempt to explore links between prostitution and global consumerism, and the way that prostitution legislation has been drafted and implemented in such a way as to strengthen societal attitudes towards, and to further emphasise, a class divide between 'wanton' women who were seen as a threat to society and 'chaste' women whom society deemed worthy of protection, regulating female bodies in order to protect men, serving only to ensure that things could carry on as they were.
.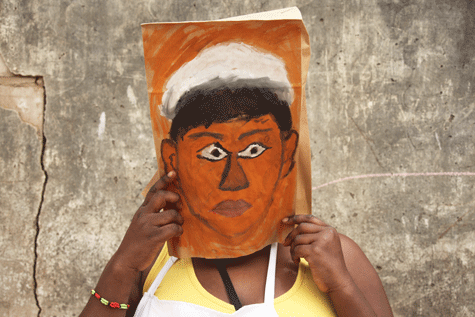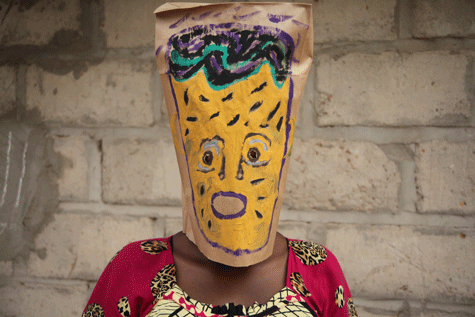 (Thanks to Hannah Manneke for the extra photos.)
The end of the course is a sad moment, they have to return to the rejections and cruelties of their regular lives. For many of these women it will have been one of the most enjoyable weeks of their lives, and I feel very lucky to have been there to share it with them and touched that they have shared so much with me. Here are some last photos from the town – roadside stalls selling, among other things, dried animal parts to be used for magic… which, as the interviews atest, is a regular part of life here.


.
When I get back to Dakar, there is a message from Mamí, who was to translate for me, she has had to go to Abuja for an 'urgence'. Abuja is in Nigeria… so I am are left without an interpretor and have to cancel the day's planned interview. Instead, I used the time to go and take photographs of the outside of the Ancien Palais de Justice on Cape Manuel peninsula.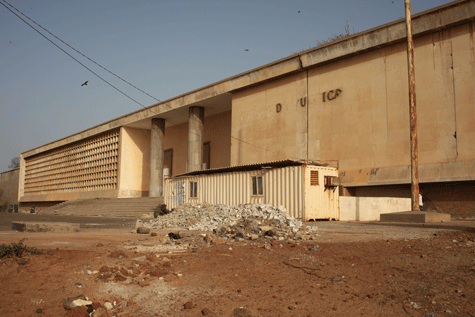 On my previous visit to Dakar, I noticed this decaying Ancien Palais de Justice, an imposing Modernist building, built in the years just prior to Senegalese independence, and now crumbling atop its rock promontory. The building itself has a prominent history, and many people politically active in the years surrounding independence, have recollections of time spent within its walls. (Those tried here include Mamadou Dia, a radical socialist and first Prime Minister of independent Senegal, who was accused of plotting a coup, and subsequently imprisoned.) At the time of my visit, the building had already been abandoned for several years. Inside, piles of documents were accumulating dust and slowly rotting, chewed by insects and rodents. A guard was supposed to deter visitors, but as an artist I was presumed harmless, and this gained me access to document the decaying interior of this important site so I was able to photograph the crumbling and abandoned contents of the old law courts.
The way in which the artefacts of justice had been left to decay, mirrors the way in which the women, in their struggle for survival, have been abandoned to their fate. The women's prison, with women jailed for infanticide, or for prostitution-related crimes, is the place where these gruesome legal and ethical (in)justices concerning women, visibly collides with the justice system.
Whilst still waiting for permission to interview women inside the jail, each day I have had a visit from a woman who is part of And Soppeku, a group helping (often illiterate) prostituted women to understand their rights, and with information about HIV…
Stories and masks.
Despite all the copies of passports, official applications and assurances, and still no direct contact with the prison authorities nor any indication that permission is imminent, was somewhat frustrating. Nevertheless, I managed to interview lots of other women… Women who have been forced through poverty to sell their bodies in order to buy food.

For this woman, ultimately, prison has meant some education and a chance for independance on her release. She now batiks and dyes fabric and also teaches these skills to other disadvantaged women.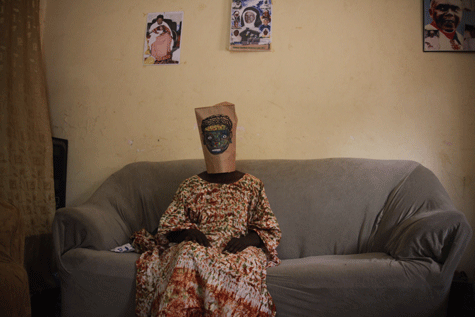 …
Toward the end of my stay, a different kind of visit… to a woman who has, or at least channels, magic powers. One of the Lebou fisher-people. As well as performing ceremonies to appease the sea gods, she also throws cowries as a guide to giving device about which sacrifices are needed to asuage maleveolent spirits.
The skills are passed down the generations and the little girl next to her is the child expected to follow in her footsteps. Girl-power in a society where women are relatively powerless.


.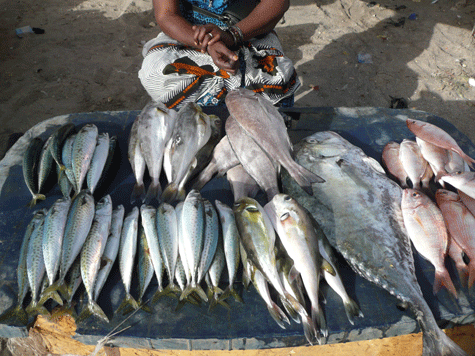 .
The next phase is a whole lot of translation, and deciding how to transform this mountain of research material into presentable work…!
Thank you Mondriaan Fund for supporting this project!
Amsterdam, 30 April, 2018