Nood Breekt Wet
Posted by jimini - 01/01/12 at 04:01 pm
Literally translated, Nood Breekt Wet means Emergency Breaks Law – in other words, if it's an emergency, then breaking the law may be necessary.

We hung this banner – a collaborative effort by Doris Denekamp, Elke Uitentuis/Wouter Osterholt and me – between a tree and a lamppost above the remains of Occupy Amsterdam on Beursplein.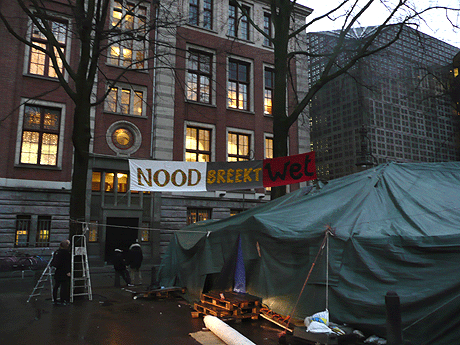 Unfortunately, no sooner had we tied the last string and I was slithering back down the rain-wet, art-deco ironwork, than a police van screeched across the square at exaggerated emergency speed to instruct us to remove it, or else it would be removed. Nienke Jansen, with whom I was hanging it, put up a brave round of stroppy argument but in the end we resigned ourselves to moving it to a less prominent, less legible, position along the side of the big tent.